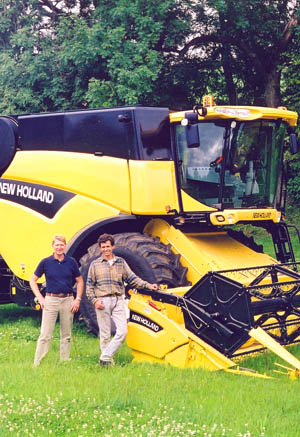 Highclere Castle Horse Feeds on the Highclere Estate
The Highclere Estate farms just over 2,000 arable acres in Hampshire. Crops include oats for both horses and human consumption, milling and feed wheat, barley, haylage and sometimes borage, linseed and winter beans. There are also areas left for stubble, maize and the large grass headlands around the fields encourage wild flowers, and a diversity of wildlife.


Highclere Castle Horse Feeds, Cup-Winners!

The large flock of sheep graze another 1,000 acres in Highclere Park, adjacent to the Castle, as well as Beacon Hill and other chalk escarpments towards Crux Easton.

Highclere Estate has a further 2,000 acres of mixed woodland, which has been planted and cared for by generations of the Carnarvon family.

Lord Carnarvon is keenly interested in all areas of farming and its role in England, working closely with his Farm Manger, James Phillips and Assistant Farm Manager, Simon Andrews.
Expanding business in high quality animal feed
Superior quality ryegrass and meadow haylage is grown on the farms of the Estate. Porchester Farms have been making haylage for over 20 years. Gradual expansion in crop tonnages has combined with word-of-mouth marketing from satisfied customers to enable the Highclere Castle Horse Feeds to cut around 750 acres of grass per year, which is delivered to customers in a 40 mile radius.
New Investment in grain drying and processing plant at Crux Easton
Lord Carnarvon recently invested heavily in a large scale grain drying and oats processing facility at the Crux Easton farm site, just south of Beacon Hill. Further, a new state-of-the-art bagging plant was installed during 2009.


Would you like to visit the Highclere Castle website?
Highclere Castle stands at the centre of the Highclere Estate. It is open to the general public from Sunday to Thursday each week during July and August and also during Easter and the May Bank Holidays.

To visit the Highclere Castle website, please click HERE.