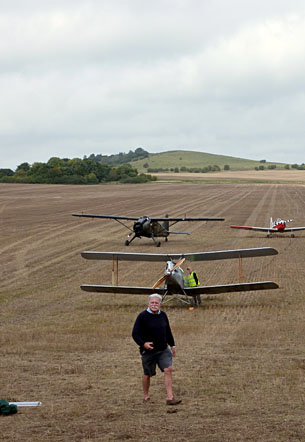 The historic importance of the Highclere Estate
Highclere's landscape has been held in a consistent ownership firstly by the Church (the Bishops of Winchester) and, from 1679, by the Carnarvon family.

The historic environment is very visible. It has not been chopped up and subdivided, so the overall scope and views and history of how people lived here can still be read from the landscape.

The Estate includes archaeological sites at Beacon Hill and Seven Barrows, medieval dykes and field systems, ancient barns (dating from 1485), old woodlands and warrens. There are surviving remains of the routes our forerunners took, the places they lived in and how they tilled their land. It tells us how they harnessed resources.

The landscape and farm provided food, water, shelter, awe inspiring views, places to relax and places to work. There are still breathtaking views today providing enjoyment for visitors walking through the silence and peace.
Air display at Seven Barrows, just south of Beacon Hill