Woodlands on the Highclere Estate

The Highclere Estate farms just over 2,000 arable acres in Hampshire. Crops include oats for both horses and human consumption, milling and feed wheat, barley, haylage and sometimes borage and beans. There are also areas left for stubble.

Maize and the large grass headlands around the fields encourage wild flowers and a diversity of wildlife.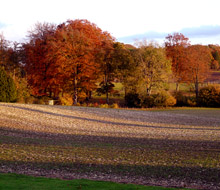 Above. Sunset over the Wood of Goodwill by the south lawns of Highclere Castle. This recently planted wood leads to an avenue of English beech
laid out by the 8th Earl and Countess of Carnarvon
in the 18th century-style of Robert Sawyer Herbert,
uncle of Henry, 1st Earl of Carnarvon.
Trees at Highclere
The trees that surround us at Highclere have been planted over generations, specimen trees standing on their own, or small groups of beech or oak, avenues of limes, and larger plantations in woods and field belts. Like most people, we probably take them for granted but they give us oxygen to breathe, shade from the sun, protection from rain and wind. They allow us to become architects, give us shelter, provide tools, they provide fuel, transport, drugs, glues, dyes, shade, pots, ornaments, food from nuts to pears, figs and apples.

A group of copper beech lie near the summit of a Siddown Hill two or three miles from the Castle. In early summer, the light filters through the rose tinged lime leaves and the exquisite beauty is inspiring. They can be visited on a seasonal walk throughout the summer.

For further details of the Walks, where they start and where dogs are allowed, please click HERE and choose a walk, illustrated with photographs.

Monumental oak trees stand, full of secret holes and wells and so large that just to encompass it would take several men. They have outlived generations of people. Some large oak trees and cedars lie on the Temple Walk, another seasonal summer walk.

The present Earl and Countess of Carnarvon both love to plant and create spaces for visitors to walk amongst the trees. As plantations of trees top out and need to be felled, others are planted. Highclere used to have a full time working saw mill but today the wood is now sent off and sold at auction for many different purposes.